LATEST NEWS
8-21-12 NEWEST BLOG POST IS UP! READ ALL ABOUT BID DAY AND PLEDGE RETREAT! http://www.uaalphagam.blogspot.com/
BID DAY 2012: Psi Chapter welcomed home 98 members of the Pledge Class of 2012 and kicked off their Pledge Retreat at Lake Martin! See our Recruitment page for more information.
MAY 2012: Alpha Gamma Delta awarded Most Outstanding Sorority 2012! Congratulations to all of our talented sisters for winning this prestigious title for three out of the past four years!
WELCOME to Psi Chapter of Alpha Gamma Delta at the University of Alabama! We are so excited to be able to share the events of our chapter with you and hope you will explore all areas of our site to find out more about us! We'd like to hear from you anytime with suggestions or questions. Thanks for visiting and ROLL TIDE!

Follow us on Facebook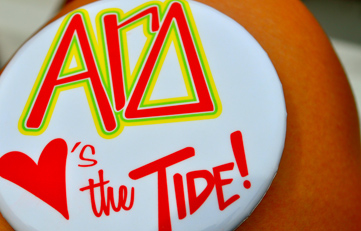 Alpha Gamma Delta received the prestigious President's Award for #1 sorority 2 years in a row!

Sarah Gieger, a Senior Alpha Gam, was crowned as the 2009 Homecoming Queen by Governor Bob Riley at halftime of the South Carolina football game. Gieger, an accounting major, is from Mountain Brook and served as this year's recruitment chair. Congrats Gig!